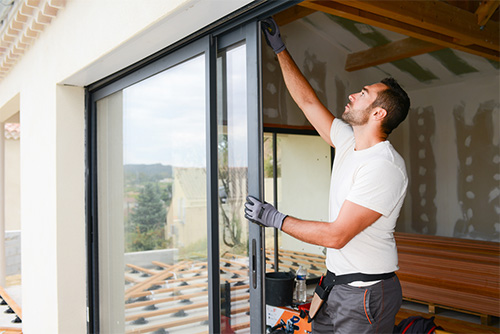 During the winter, a window in need of repair or replacement can be the culprit behind high energy bills. If your window is letting your home's warm air out and cold air in, you're probably paying more to keep your home well-heated.
A single pane of glass can lose nearly 50% more heat than insulated vinyl siding of same proportion, so the more windows you have in your home, the more heat loss you have at stake. Studies show that 25%-35% of your home's heat can be lost through your windows, which means you'll have to use your furnace more than necessary in order to keep you and your family comfortable during the winter months.
Luckily, we can fix that. Let our experts handle your window problem; we've completed thousands of repair jobs and no job is too small or too large for us to handle. In most cases, we'll have a repair crew out to your home within 24 hours of your phone call. Whether your frame is rotted, your window pane is cracked, your screen is damaged, your windows aren't insulated properly, or you need a full window replacement, our team of trained professionals can get it done fast and done right the first time.
At Qualified Construction, we're dedicated to customer service and won't settle for anything less than perfection. Give us a call today and we'll show you why we're one of the most trusted home improvement companies in Michigan.
Sometimes your windows can simply be repaired to restore their integrity, but other times, it's better to opt for a complete window replacement. If your windows are old, drafty, poorly installed, or beyond repair, our experts can help you choose a replacement style and color that is perfect for your home.
---
Energy Savings
Many homeowners don't realize that low-quality windows can actually let in outdoor air when they're not supposed to; that means drafts of hot air when you're trying to keep your home cool and drafts of cold air when you're trying to keep your home warm. When this happens, it reduces your home's energy efficiency and you're forced to pay more to keep your home at the right temperature.
With a window replacement from P.J. Fitzpatrick, however, we can help rectify this. Our windows are well-insulated and provide a tightly sealed barrier between your interior and the outdoors. In addition, they're designed to reduce the transfer of thermal energy, keeping your home cooler in the summer.
---
A Variety Of Choices
Today, there are enough window styles to satisfy any homeowner, so no matter what kind of look you're going for, we can help you find it. We carry everything from traditional double-hung windows to elegant bay windows to unique awning windows and more. Each type of window comes with its own list of benefits and can give your home a specific appearance, so if you're unsure where to start, just ask.
Whether your window replacement is for one room or for your entire home, we guarantee that you'll love your new installation. Our home improvement company carries only the best in windows and you can be sure we'll get the job done right the first time around. Give us a call today to get started.
---
Doors
We've discovered that there are many homeowners who don't know how important their doors are to their homes. Whether it's your front door, your basement door, or your patio door, each of your doors provides your home with protection, beauty, and value, and if your doors are old or damaged, they could be costing you.
With a new door replacement, you can improve your home on many levels. We offer a variety of high-quality door styles and materials for both interior and exterior doors, so no matter which door needs an update, we can help. Our doors are built for protection, aesthetics, noise reduction, energy efficiency, and durability. And best of all, they can give your home a modern look, traditional look, eclectic look, or anything in between.
FIBERGLASS DOORS: Fiberglass is a relatively new material in doors today. It's very low maintenance, resists denting and scratching, and is very h3 and secure. It also offers a wood grain if you desire a wood-look. Another benefit to fiberglass is that unlike wood and steel, it doesn't need to be finished to be considered low maintenance. Fiberglass, even when left unfinished, will last for years without fears of mold, deterioration, or rust.
STEEL DOORS: Today's steel doors do much more than just provide security though they perform that function quite well. Steel doors are also renowned for their insulating qualities. Typically, steel doors are constructed of a hollow heavy gauge galvanized steel shell that is filled with expanding foam or some other high-density insulation foam. Galvanizing prevents the steel from rusting. After the foam sets and hardens, the surfaces are coated so that the door is not cold to the touch.
STILE & RAIL DOORS: This older style of door is made from planks of timber – or a wood composite. The name refers to its components – vertical members, called stiles, and horizontal members called rails.
FRENCH DOORS: Commonly used to connect your garden with your house, a French door is one made of glass and framed (most commonly) by wood or aluminum.They are found as both single and double doors.
SLIDING DOORS: These doors are often a gateway to the backyard. Large glass panes let lots of light in, and lots of ventilation when opened. Solid sliding doors are used indoors when space is an issue as there may not be enough room for a wing door to open – this is especially useful in bathrooms. Inside, sliding doors are often "pocket" doors – so called because they slide into a pocket in the wall when open.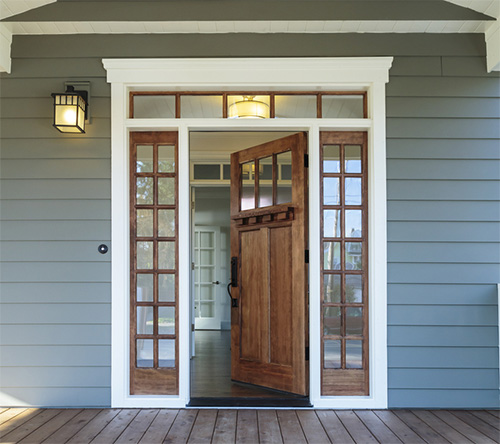 Trust the experts
Qualified Construction is your top choice for door repair services because we only staff experienced door specialists that can repair, maintain or install top quality doors in your home. Whether you need the weather stripping on your door replaced to create a proper seal from the outside of your home, you need the door locks, screens or hinges replaced or adjusted, you need the caulking replaced or you need your door's threshold repaired, the experts at Qualified Construction are the premier choice for door repair services.