Your roof is your home's first line of defense against the elements, and it plays a key role in keeping your family comfortable and safe, regardless of the season and what might be happening outdoors. This is why, when you need roof repair or roof replacement in Traverse City, MI, you need a team you can trust to provide guidance, high quality workmanship and friendly customer service.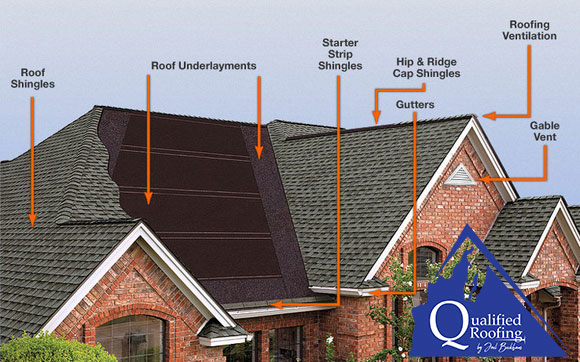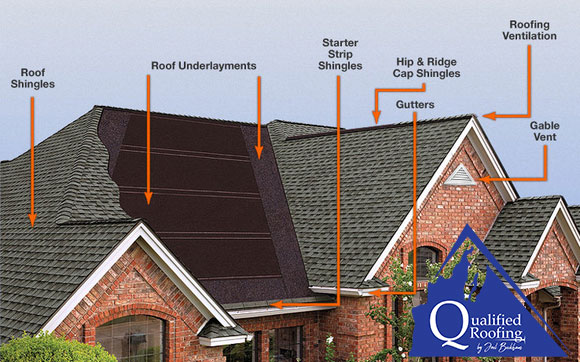 Residential roofing can be confusing when choosing a roof style, color, contractor and the many other options you are presented with. Please feel free to contact us with any questions you might have, we are more than happy to answer them so you can make an informed decision At Qualified Roofing advice is always free.
Standard Roof Package
Landmark Shingles
Landmark Shingle Color selection
Omnirolll Ridge vent
Titanium Synthetic Felt
Titanium Ice & Water Shield
Grace Ice & Water Shield
Velux Skylights
Stinger Cap Nails
Tear Off and Replacement

When tearing off existing roof, we protect the house and landscaping with plywood and tarps. We tear off the roofing down to plywood at which time we repair any rotted wood and install ice and water shield to all eves, trouble areas, valleys and penetrations. We then install new drip edge, titanium felt, and new shingles. New flashings are followed by ridge vent and cap. We magnet the entire job for nails, and clean up spotless. Each job is finished with a final walkthrough and inspection.

Roofovers:

A roofover is an option to be considered under certain circumstances. Each roof is allowed to have two layers of shingles with all the same warranties and life expectancies but at 15 to 20% less cost.

Roofovers have been given a bad rep because people do not do them properly. There are specific guidelines to follow set by the manufacturers. Such as tearing shingles out and replacing all penetrations and transitions. not just roofing around them, as so many people do. The existing shingles are then used as an underlayment. I believe a roofover under the right circumstances, is better than a tear off. I have done hundreds of roofovers over the last 30 years and no complaints. 3 of which were my own personal homes.

Insurance Claims

Make sure you talk to a roofer before you call your insurance company to file a claim.

If you have water coming in your roof and don't install a tarp, it may be the difference between insurance paying for a small repair and paying for a full roof. Feel free to call us, advice is ALWAYS free, even if we are not doing the roof. We can walk you through the entire insurance process.

Emergency services available.

New Construction

The new construction schedule fluctuates for numerous reasons.

We schedule new construction in the order it was ready. We will Dry the roof in completely as soon as it is ready for us, so that mechanicals can be installed and inspected in a leak free environment. We will then schedule the shingle installation in the order your roof was put on the schedule. With our immense workforce most jobs are not left dried in long, or at all.

Blown Insulation

We install blown insulation for less than half the cost of most insulation companies. The reason for this is because we have access to the entire attack while the roof is being torn off. Most houses under 2,000 sq feet can be fully insulated with blown fiberglass for well under $1500. For under $1/Sq ft.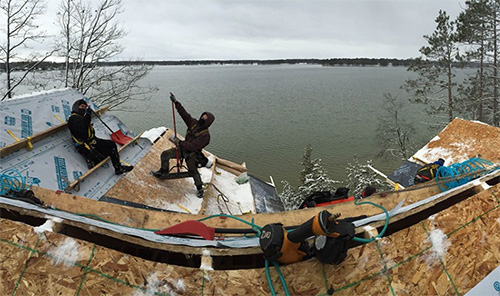 Trusted Residential Roofing Company
Qualified Roofing is proud to be a trusted, reliable roofing company, and working with top-of-the-line products is a big part of maintaining our reputation and our track record. To this end, we rely on such noted industry brands as Landmark shingles from CertainTeed, as well as Owens Corning and GAF Materials.
Finding a great roofer in Traverse City, MI became easier when Qualified Roofing opened for business in 2015. Give our experts a call at 231-360-1756 to schedule a free consultation!
Contact Us Today!